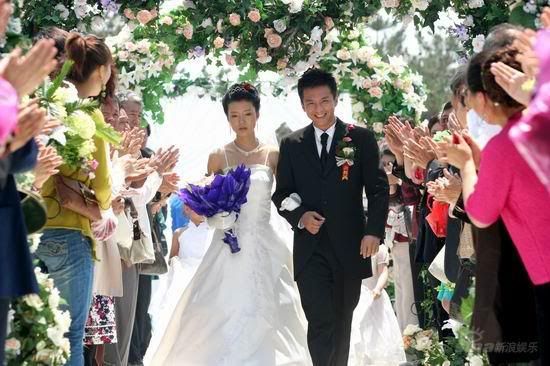 Synopsis
Meng Hao is a successful young billionaire and Chairman of Kun Peng Real Estate. He's the dream lover of many women in the city of Xing Hai, where our story unfolds. However, Meng Hao has never been interested in romance...that is, until he meets and falls head over heels in love with Lin Yu Xin, the girlfriend of his brother Meng Wei's best friend. Meng Hao recklessly tries to pursue Yu Xin, angering her boyfriend Hao Liang. This in effect actually strengthens Hao Liang and Yu Xin's romance. Unfortunately, Hao Liang is seriously injured in an accident at work and falls into a coma. In order to pay the hospital bill, Yu Xin is forced to go to Meng Hao for help after trying all other sources to no avail. He agrees to pay for everything under one condition: Yu Xin must be his lover or wife for one year. -- Lady Zhuge
Episodes: 22
Cast
Deng Chao
as Meng Hao
Che Xiao
as Lin Yu Xin
Du Jiang
(杜江) as Hao Liang
Liu Yun
as Yu Fei
This drama has interesting plot and a good storyline. Yu xin, is a tough girl. She has ideals, so when she chose to marry Meng Hao. She started to work and gain her money. Her husband has a lot of money but she prefer to work and don't want to take his money. As she said that it was his hard work profit, she didn't earn this money. She loves her boyfriend deeply, so she did whatever needed to save him. Even shoosing a marriage with a rich man.She's the angel while he's the demon. She is a sincere person so after marrying the devil, she tries to live in a big house and start working in his company. She finds out that her husband is a diplomat who knows how to win in business. He said to her in one scene that
one's gain means other's loss
. so if u want to win other have to lose. that's business! he's a shark in business but falling in love with Yu xin. Knowing that she has a boyfriend. He made a tough decision - to get rid of her boyfriend. Really cruel way to get his wish. He saw her cold attitude towards him and he did everything to get his "angel". And he won! But the punishment is priceless. Yoy have to pay for greed..his sin had a price...you can't steal others girlfriend and live like nothing happened!
You have to pay when when you're responsible for others death. She was loyal wife and tried her best. But there were a few moments that he showed his devil attitude...i pitied her..:(
= she came to Hao Liang for the first time after the marriage, and he called her to return immediately or her boyfriend will pay for it. she was so fragile and caring.
= when he dragged her to the hospital to check her health. because he wanted her to get pregnant...so cruel...
= the scene when she lost her baby..he dragged her and used violence..really hard moment :(
= the randez - vous at the office...when the devil offered the deal about the marriage...
Sweet moments:
- i loved the idea of babies pictures on the wall...so sweet..and manipulating...smart move!
- when they met after the divorce..and he used his tie to cover her eyes..really unique idea...
- the moments with the flower...great saying.."this flower the same as us..first marriage and afterwards love...nice flower..blossoms in winter, quiet opposite from all flowers..just like them...
This drama was splendid...i didn't expect smth good...but i was surprised...the plot was good the cast just great...
It really showed how much people can change...and the angel became tough and experienced...her change was really awesome. she's beautiful and talented actress.
Meng Hao was great all the series..he chose his path so he knew what he was doing..he loved her deeply so he did a wrong decision and the price was really hard..but he managed to stay tough till the end. i loved the scene when he was in jail...so tragic and hard..
It's not a regular love story...every one change and Hao Liang was the weak one so he tried to play with the devil and payed high price..he was so sweet at the beginning so after all the hardships he went through, i wanted him to move on and find his happiness again..he deserved it. But he chose the wrong path and did a really bad thing...but at least he didn't touch her..
Hao Liang was the victim. He changed and this change was so drastic..so he collapsed and couldn't move on...he was so pitiful...
Everyone pay for the choice they made. Meng hao created a sin and took the angel from someone else....
when the ex wife disappeared the first time, he was so miserable..so he bought a few flowers that she loved ..and was going crazy..he deserved it! the second time she left...i wanted to beat her! so naive...to believe someone that you don't know so easily...especially when she knew how much her ex husband loved her..
i have no comments about the plot..everything was just in time...just the end was so tragic..so sad...to see them separate for seven years...after they finally got back together...